Is Your Formula Part of a Recall or Is It Out of Stock?
We know how hard it can be for families when their formula is recalled or out of stock. At Nature's One, we manufacture all of our formula in our brand new, technologically advanced, state-of-the-art facility in Ohio that's focused on organic and non-GMO nutrition. All formulas are crafted in small batches and our recipes are made with the purest, natural and organic ingredients. Need a suitable substitute during this challenging time? See our options below or use our Formula Finder to find the best fit for your baby!

Baby's Only® Toddler Formulas are intended for use starting at 1-year of age. For a child less than 12-months of age, Baby's Only® Toddler Formulas can be used under the direction of a healthcare professional. If your child is less than 1 year of age and you are seeking a new or replacement formula, ask your child's healthcare provider if a Baby's Only® Formula could be a fit. Charts comparing the nutrient content of Baby's Only® formulas to other formulas on the market can be shared with your child's healthcare provider and are available by contacting us!
You may also contact our customer service team M-F from 9AM to 4PM ET at (888)-227-7122. They would be happy to help you navigate our product offerings!

Organic Sensitive DHA/ARA Formula
Certified Organic
Milk-based formula intended for children with lactose intolerance or sensitivity
Designed for sensitive tummies
Contains an organic source of DHA/ARA to support brain and eye development
Organic Gentle DHA/ARA Formula
Certified Organic
Features lactose and whey protein concentrate
Designed to support digestion. May help produce softer stools
Contains an organic source of DHA/ARA to support brain and eye development
Organic Gentle Dairy Formula
Designed to be as close to breast milk as possible
Certified Organic
Features lactose and whey protein concentrate
Designed to support digestion. May help produce softer stools
Organic Plant Based Pea Protein Formula
Certified Organic
Dairy free, soy free and free of cow's milk protein
Plant-based, great for families who prefer a vegetarian diet without the use of soy proteins
Suitable for children with food allergies or intolerances to dairy, soy, wheat, gluten, tree nut, or corn proteins
Certified Organic
Organic Lutein for eyes
No Corn Syrup or palm oil, gluten free
Contains an organic source of DHA/ARA to support brain and eye development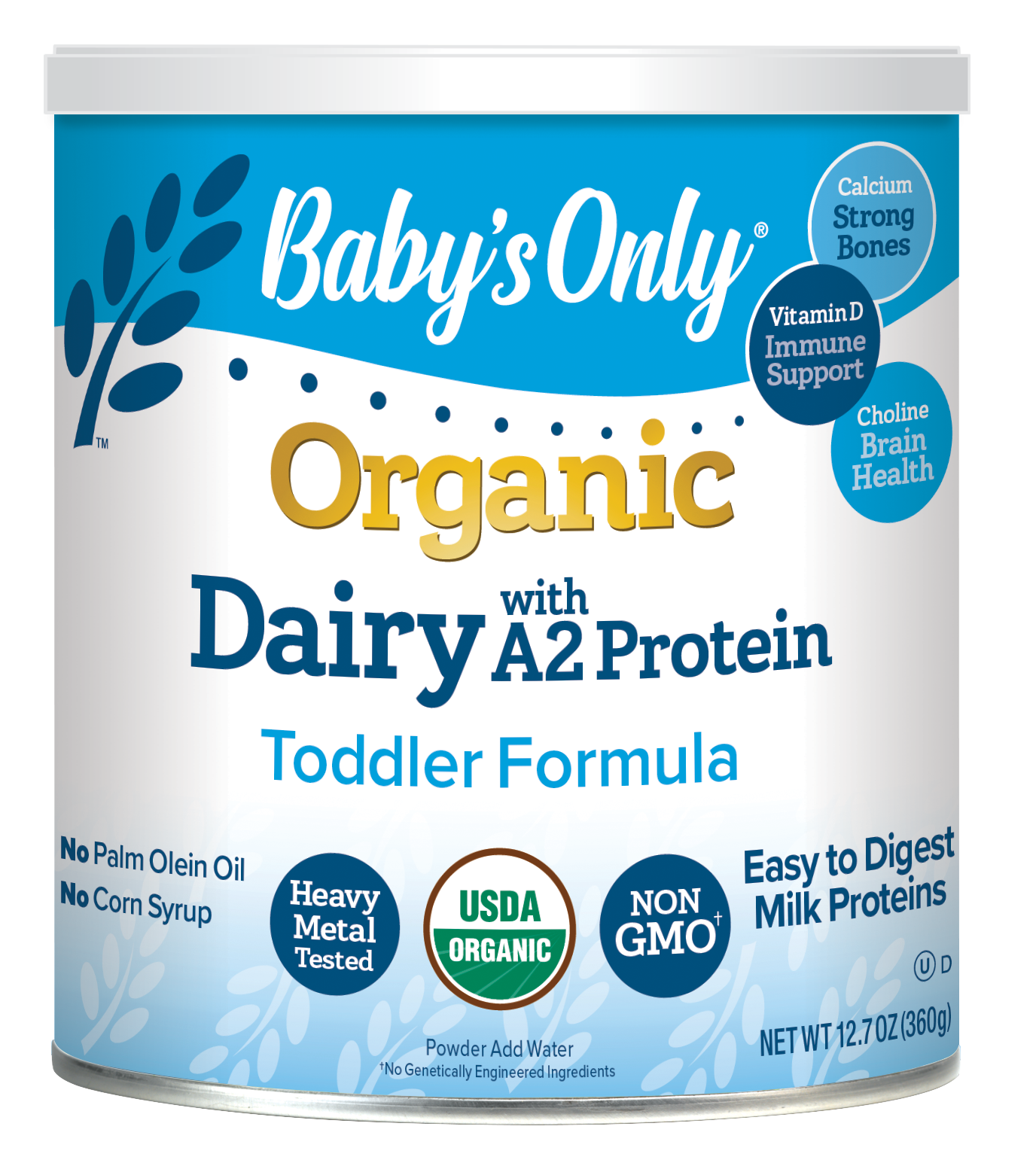 Certified Organic
Made with organic milk with A2 protein to support digestion
No Corn Syrup or palm oil
Gluten Free
Certified non-GMO, made with organic ingredients
Made from milk of Kosher cows
Manufactured under strict rabbinical supervision
Can be used by Sephardic families who consume kitniyot during Passover
Certified non-GMO, "made with organic" certified
Goat milk is known to help support easier digestion, great for sensitive tummies

Suitable for children with food allergies, intolerances, or sensitivities to soy, wheat, gluten, peanut, tree nut, sesame, fish, shellfish, and corn proteins

Contains an organic source of DHA/ARA to support brain and eye development